Palin doesn't wear a US flag in the debate
Okay, Fox "News" had a slow day. They compared flag lapel pins between Biden and Palin.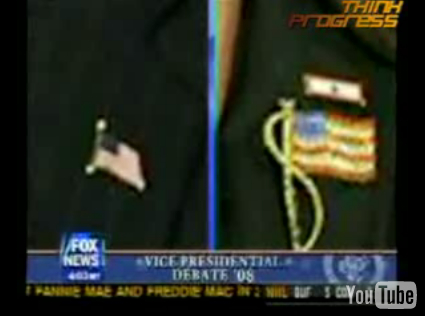 Now if you notice closely, Palin's pin only has seven red and white stripes. I have no idea how many stars it has, as the video is such low-resolution, but odds are it doesn't have 50 in that tiny field of blue.
While this pin may be representative of the U.S. flag, U.S. Code Title 4 states:
Sec. 1. Flag; stripes and stars on

The flag of the United States shall be thirteen horizontal stripes,
alternate red and white; and the union of the flag shall be forty-eight
stars, white in a blue field.
and later amended to bring it up to 50 stars :
WHEREAS section 2 of title 4 of the United States Code provides as
follows: ``On the admission of a new State into the Union one star shall
be added to the union of the flag; and such addition shall take effect
on the fourth day of July then next succeeding such admission.'';
So, as Sarah Palin's lapel pin doesn't have the required number of stripes, it is not a U. S. flag. Yes, this is a nit-picking detail, but for someone who goes to attack Senator Obama on his patriotism, she doesn't stand on firm ground herself.
See the whole video of the "news" story on fox:
Comments, Trackbacks, Pingbacks
The URI to TrackBack this entry is: http://www.how-to-hide-a-corpse-on-federal-land.com/words/htsrv/trackback.php?tb_id=202
No Comments/Trackbacks/Pingbacks for this post yet...
Comments are closed for this post.